White Chocolate Peanut Butter Lickin' Good
Regular price

$29.97

Sale price

$29.97

Unit price

per
Introducing the Peanut Butter White Chocolate Chip Collagen Bar!
Normally a lady never tells, but "How good is it?" Peanut Butter Lickin' Good! It's the kind of good you journal about, text your girlfriends about, and sorta feel like you should go to confessional over - even if you've never been. I mean, really, superfoods and age-defying collagen, peanut butter, and creamy white chocolate chips.
One box carries  10 delicious Peanut Butter Lickin' Good Empact Bars.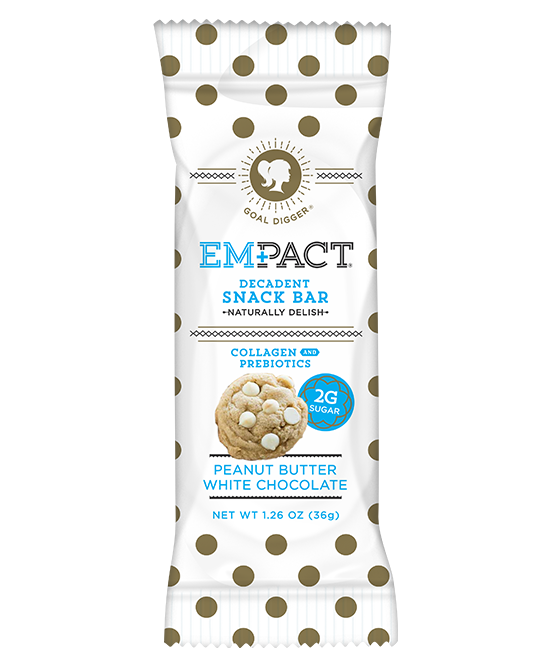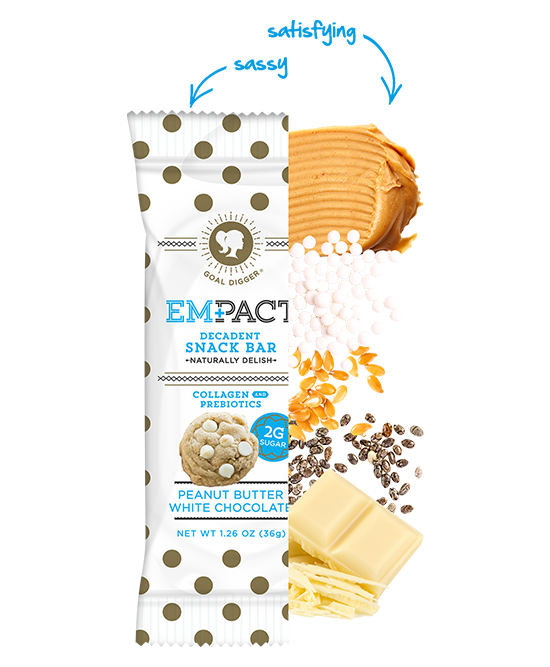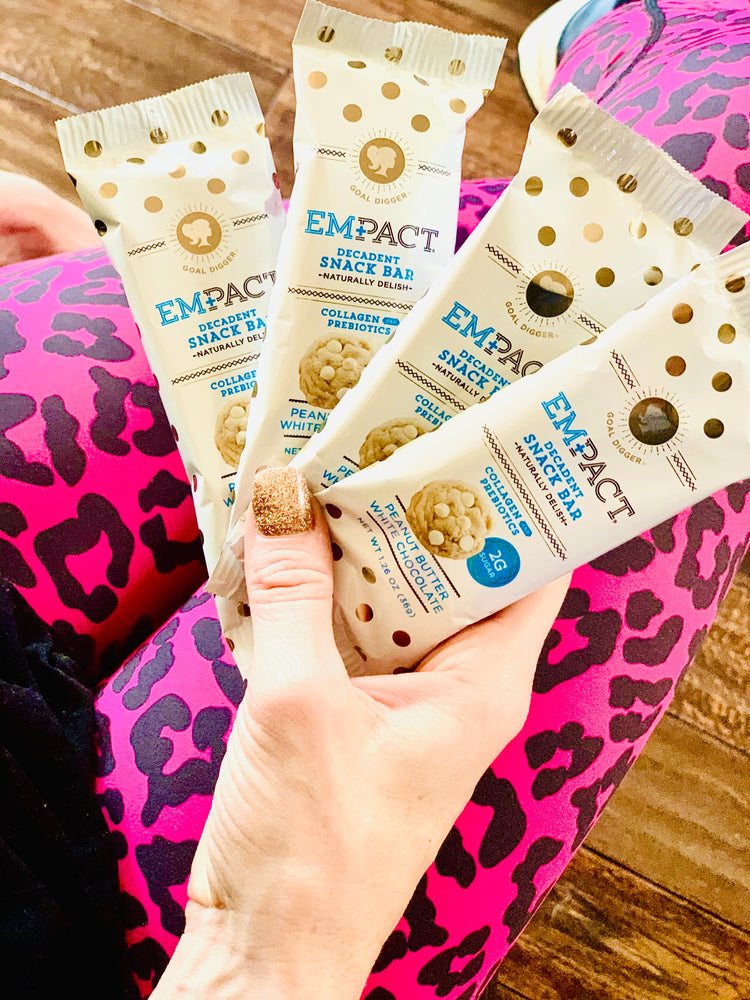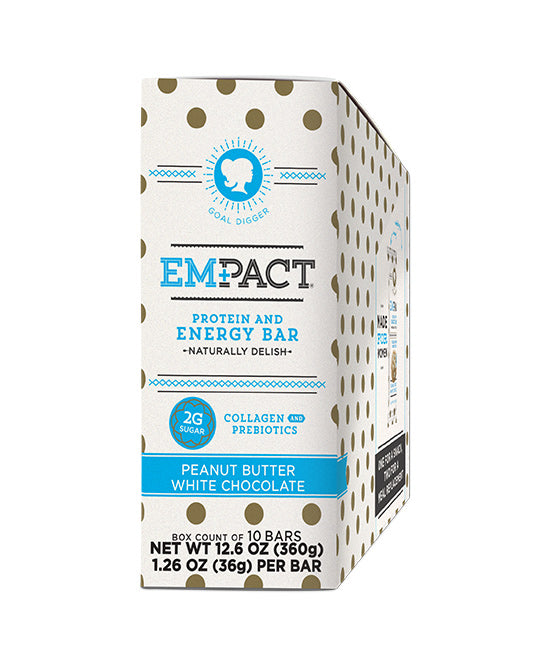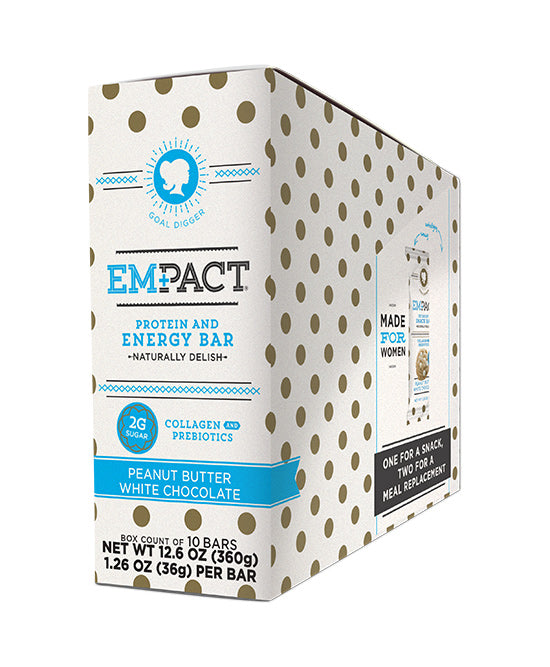 Real Food. For Real Women.
White Chocolate Peanut Butter Lickin' Good
A date with Ryan Gosling wouldn't make you glow this much. So when you want to indulge and not feel guilty after, grab a Peanut Butter Lickin' Good Empact Bar.
Due to the limited quantity of this product specifically, all sales are final.
Benefits
6gProtein
160Calories
2gSugar
Prebiotics for better gut health
Marine collagen for hair, skin, and nails
Keto friendly
One for a snack, two for a meal replacement
The best Peanut Butter White Chocolate Chip bar on the market, bar none.
Indulge without the guilt because YOU deserve one.
Ingredients
Peanut Butter, Tapioca Syrup, MCT Oil Powder, Cream Powder, Peanut Flour, White Chocolate (Sugar, Palm Oil and Palm Kernel Oil, Whey, Nonfat Milk, Sunflower Lecithin and Vanilla), Hydrolyzed Marine Collagen Peptides (COD), Chia, Sunflower Lecithin, Salt.
Allergen: Contains Peanuts, Dairy, and Fish (COD). Made in a facility that also processes peanuts.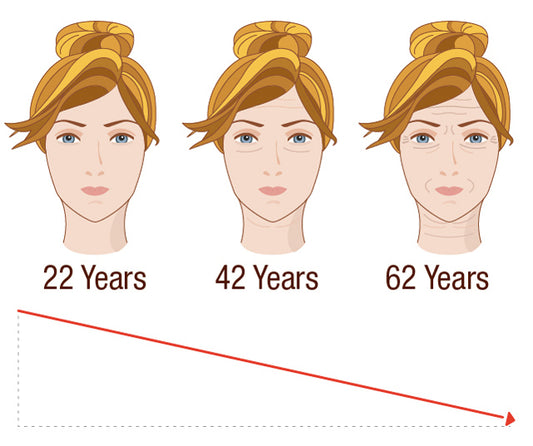 Your Body Makes Less Collagen Over Time
Research suggests that as we age, we lose it. Some believe this is one of the reasons for aging skin, uneven skin tone, brittle nails, and other signs that give away your age.
The 21st century diet does not lend itself to being abundant in collagen. This means that as we age, we need to be more conscious about how much collagen we are consuming daily, especially since our bodies make less of it as we grow older.
If you're going to be more conscious and consume more collagen, why not consume it in the most delicious way? With the Peanut Butter Lickin' Good Empact Bar, you get to consume the daily dose of collagen you need, all while indulging without the guilt.
Here Are All The Natural Ingredients Inside This Healthy, Delicious Collagen Protein Bar
Marine Collagen
We chose Marine Collagen specifically because it has been shown to have the types of collagen that improve the health of your hair, skin, and nails the most.

The Marine Collagen in this Empact bar is of the highest quality. Getting your daily collagen in has never been so satiating!
Peanuts + Peanut Butter
It's got good fat and its high-level of monounsaturated fats helps aide in weight loss. Plus it's loaded with Vitamin E, which is essential for helping the body remove free radicals that essentially stop cell destruction. It's high in magnesium and muscle-friendly potassium, as well as immunity-boosting B6.
White Chocolate Chips
Cocoa helps boost energy, shed fat, aide immunity, and improve mood. It also contains antioxidants that help improve memory and hinder aging. Plus, it triggers serotonin and endorphins. It helps in immune function, cognition, and detoxification. Flavonoids in cocoa raise HDL, the "good" cholesterol, and both lower and protect LDL, or "bad" cholesterol, from being oxidized (damaged by free radicals) in the blood.
Chia Seeds
Chia seeds are a nutrient dense, energy boosting, superfood that is an excellent source of omega-3 fatty acids.
MCTs
MCT is usually in the format of an oil that people then turn into a powder so it's easier to supplement with. 
MCT stands for medium-chain triglycerides and it contains certain kinds of fats called triglycerides. These kind of fats are digested in the stomach very easily, and there are a lot of positive benefits that come from how your body like to process MCTs specifically. 
Tapioca
Tapioca contains a lot of prebiotic fibers. Prebiotics are nutrient sources for beneficial bacteria and act as a "fuel" to set the stage for your body to digest nutrient rich food. They work together with probiotics to help reserve health by maintaining balance and battling inflammation and lowering overall disease risk.