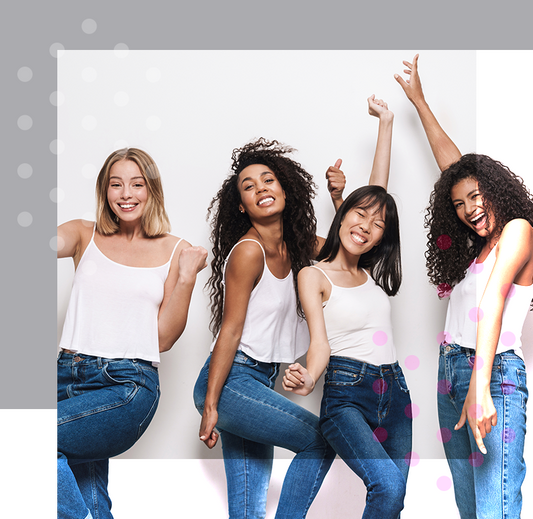 About Us
Empowering the ladies
At Empact, we're all about fueling ambitious go-getters who are set on making a mark. From the boardroom to the classroom, and black tie dresses to yoga pants, we're shattering glass ceilings and making it our mission to empower the inner GOAL Digger inside every woman. It's our goal to inspire healthy choices and make an impact on the lives of women everywhere, helping you find the best version of yourself along the way.
Breaking through the noise
The bar aisle is a crowded and noisy place. Yet among it all, there's nothing that speaks to women. Chalky, high in sugar, chemical-laden, and mainly geared towards men, it's no wonder most bars end up half-eaten and folded over in our purse or gym bag. At Empact, we've made it our goal to put an end to this nonsense.
Ingredients
With an ingredients list you can actually pronounce, Empact bars take the guesswork out of healthy, delicious snacking. We pack each snack and shakes full of nutrient-dense, protein-rich, mouthwatering deliciousness, and make no compromise on the quality of our ingredients. We're talking high quality ingredients that won't leave you feeling bloated. Plus, our snacks taste amazing!
Why We Do What We Do...
Ladies, This One's For You
Practice Your Core Values

At Empact, we believe empowering women makes the world a better place, and this belief permeates everything we do. From our ingredients and core values, to the way we structure our business, it's our goal to be intentional about appreciating, recognizing, and taking into account what women want and need.

Stand Out From The Rest

For us, this meant saying sayonara to the status quo surrounding the energy bar aisle, and delivering a healthy, delicious protein bar that's unapologetically made just for women. A snack and go-to energy source that helps fuel your inner-goal digger, helping you get closer to achieving the impact you're set on making.

Build A Community

At the end of the day, it's our hope that Empact represents a movement and community that helps you and every women be the best versions of themselves.
Meet the Empact Team
A Texas-born lady boss who's not afraid to dance her heart out (Britney Spears-style), Melonie is our resident Chief Goal Digger. 'Hustle' and 'Be Kind' are her personal mottos, and she's convinced amazing things happen when you combine the two. A once-upon-a-time corporate and securities attorney at an international law firm, she puts the many lessons she learned about shattering glass ceilings and excelling in traditionally male-driven arenas to use on the daily. Whatever you're planning, she's in (bonus points for anything involving Vegas, dance parties, lattes, or heels). She can now be found living out her dream of building a company that empowers the girl boss in women everywhere, slinging insanely tasty, polka-dot-wrapped protein bars, and loving life with her husband and three beautiful girls.
IMPORTANT FACT: Melonie's fear of spiders once caused her to eject out of a moving vehicle in the middle of a Parisian roundabout. Apparently, not everything is bigger in Texas.
Melonie DeRose
Founder and Chief Goal Digger
Zeke DeRose
Founder & Chief Gentleman
An L.A. boy who once "rocked" frosted tips, Zeke's now rocking the title of Chief Gentleman here at Empact. As Melonie's hubbie and father to their three daughters, helping his girls feel confident, empowered and loved has been his business before it was his business. Zeke's a jack of many trades: He's swung a hammer as a construction worker, drove race cars (mainly to impress Melonie), had a stint as a high school teacher and a litigator, and eventually got in touch with his feminine side after teaming up with Melonie to run a health and fitness company for women (and now, a protein bar company for women). The dude loves NASCAR, can play a mean jazz sax, and is addicted to lattes. If you ask him about his most important job, he'll be quick to tell you it's raising his three girls to be strong, independent, kind humans who always have someone who believes in them.
IMPORTANT FACT: Best part of his job…telling his kids that their mom is his boss.
Nonprofits
As we expand and grow, not only will the organizations we work with expand, but we will be able to empower + impact more and more women.
Right now, we work with two amazing organizations that help women on a daily basis. One is the Women's Bean Project, where we contribute to helping women find employment. They have a 6-month program with a 100% job-placement rate, where women learn job and life skills.
The second amazing organization helps girls that fall through the cracks of the foster-care system. Among other things, it's a home for girls 10-17 who are in need of therapeutic residential care and specialized professional services. Often times these girls turn 18 without anything on their resume and lack essential communication and job skills. We're working to help change that.
Learn More About These Nonprofit Organizations