Terms & Conditions
This Website is owned and operated by Empact Bars and its affiliates (collectively, "Empact Bars", "US", "WE", or "OUR"). PLEASE CAREFULLY REVIEW THESE TERMS AND CONDITIONS (collectively with any amendments, the "Terms") BEFORE USING THE EMPACTBARS.COM WEBSITE OR ANY OTHER WEBSITE OPERATED BY US (COLLECTIVELY, THE "SITES"), OR BEFORE PLACING AN ORDER OR USING ANY SERVICES PROVIDED BY EMPACT BARS (the "SERVICES"). THESE TERMS MAY AFFECT YOUR LEGAL RIGHTS, INCLUDING YOUR RIGHT TO BRING A LAWSUIT OR CLASS ACTION.
BY USING THE SITES IN ANY WAY:
(1) YOU AKNOWLEDGE THAT YOU HAVE READ AND UNDERSTOOD THE TERMS,
(2) YOU AGREE TO BE BOUND AND ABIDE BY THE TERMS, AND
(3) YOU AGREE THAT YOU ARE AT LEAST 13 YEARS OF AGE AND ELIGIBLE TO USE THIS SITE AND PLACE AN ORDER FOR OUR PRODUCTS AND SERVICES.
IF YOU ARE 13 TO 17 YEARS OF AGE, YOU MUST USE THIS SITE AND/OR PURCHASE AND USE OUR PRODUCTS OR SERVICES ONLY WITH THE INVOLVEMENT OF YOUR PARENT OR GUARDIAN.
IF YOU DO NOT AGREE TO BE BOUND BY ALL OF THE TERMS, PLEASE DO NOT PLACE ON ORDER FOR Empact Bars'S PRODUCTS OR SERVICES AND EXIT THE SITES AND OUR SERVICES IMMEDIATELY AND DO NOT USE THEM.
These Terms apply to all users of the Sites, including without limitation, users who are browsers, vendors, customers, merchants, and/ or contributors of content. To the extent of any express inconsistency with any other agreement you may have with us for products, Services, or otherwise, that other agreement will prevail unless otherwise explicitly stated therein. If these Terms refer or relate to a clause that is not part of that other agreement, then these Terms will apply as well, if you are a user of the Sites.
NO MEDICAL INFORMATION OR ADVICE*
The Sites and Services may offer health, fitness, and nutrition-related information, but are designed for informational purposes only. THIS INFORMATION DOES NOT REPLACE PROFESSIONAL MEDICAL ADVICE, DIAGNOSIS, OR TREATMENT AND YOU SHOULD NOT RELY ON IT FOR THIS REASON. IF YOU HAVE ANY CONCERNS OR QUESTIONS ABOUT YOUR HEALTH OR THE CONTENT ON THE SITES OR SERVICES, YOU SHOULD ALWAYS CONSULT WITH A PHYSICIAN OR OTHER HEALTH-CARE PROFESSIONAL OR PROVIDER. BY USING THE SITES, YOU AGREE THAT THE USE OF ANY INFORMATION PROVIDED ON THE SITES, OUR PRODUCTS, OR THROUGH THE SERVICES IS SOLELY AT YOUR OWN RISK. Nothing stated or posted on the Sites or available through any Service is intended to be, and must not be taken to be, medical advice or counseling care. For the purposes of the Terms, the practice of medicine and counseling includes, without limitation, psychiatry, psychology, psychotherapy, the practice of pharmacy, nutrition, and fitness counseling or providing any kind of health care treatment, instructions, diagnosis, prognosis, or advice. Developments in medical research may impact the health, fitness and nutritional topics discussed on the Sites or through the Services and no assurance can be given that the information contained in the Sites or the Services will always include the most recent findings or developments with respect to the particular material. Your access or use of the Sites, our products and the Services does not create in any way a physician/patient, confidential, or privileged relationship, or any other relationship that would give rise to any duties on our part or the part of our licensors. We do not recommend or endorse any specific tests, physicians, procedures, opinions, products or other information that may appear on the Sites or Services. If you rely on any of the information provided by the Sites or the Services, our employees, or guests or visitors to the Sites, you do so solely at your own risk.
USER CONDUCT
You must only use the Sites for lawful purposes, and you must not use them in a way that infringes the rights of anyone else or that restricts, harms, interferes with, or inhibits anyone else's enjoyment of the Sites. You may not without our prior written consent:
modify, distribute, delete, or re-post any content on the Sites for any purpose;
copy, reproduce, use, or otherwise transmit any content, code, or otherwise, that appears or is part of the Sites; or
use the content on the Sites or any part of the Sites for any commercial exploitation whatsoever.
Furthermore, you agree you will not access or use the Sites or Services to:
Copy, reverse engineer, reverse assemble, otherwise attempt to discover the source code, distribute, transmit, display, perform, reproduce, publish, license, create derivative works from, transfer, expoit, or sell any information, software, products, or Services obtained through the Sites (including, without limitation, the copying or use of any Empact Bars name, trademark, logo, or any other graphics or pictures found on the Sites, without the express written consent of Empact Bars).
Upload, post, email or otherwise transmit any postings, information, or other materials that contain viruses, corrupted data, or any other computer code, files, or programs designed to interrupt, harm, destroy, or limit the functionality of any computer software or hardware or telecommunications equipment;
Upload, post, email, or otherwise transmit or distribute any postings, information, or other materials that are unlawful, harmful, threatening, abusive, harassing, tortious, defamatory, vulgar, obscene, libelous, invasive of another's privacy, hateful, or racially, ethnically or otherwise objectionable (in our sole discretion);
Manipulate, delete, or modify any legal notices, proprietary designations, labels, assets, or other content or source code provided on the Sites;
Impersonate any person or entity, including, but not limited to any user of the Sites, Empact Bars, a representative of Empact Bars, our affiliates, or any other person or entity, or falsely state or otherwise misrepresent your affiliation with Empact Bars, or our affiliates, or any other person or entity;
Forge headers or otherwise manipulate identifiers in order to disguise the origin of any postings, information, or other materials transmitted to or through the Sites;
Upload, post, email or otherwise transmit any postings, information, or other materials that are not your own, or that you do not have a right to upload, post, email, or otherwise transmit under any law or under contractual or fiduciary relationships (such as insider information, proprietary and confidential information learned or disclosed as part of employment relationships or under nondisclosure agreements);
Upload, post, email, or otherwise transmit any postings, information, or other materials that infringe upon any patent, trademark, trade secret, copyright, right of privacy or publicity or other proprietary rights of any party;
Upload, post, email, or otherwise transmit any unsolicited or unauthorized advertising, promotional materials, "junk mail," "spam," "chain letters," "pyramid schemes," or any other form of commercial solicitation;
Interfere with, overburden, damage, impair or disrupt the security of the Sites, or any services, system resources, accounts, servers, or networks connected to or accessible through the Sites or other affiliated or linked sites, or disobey any requirements, procedures, policies or regulations of networks connected to the Sites;
disrupt or interfere with any other user's enjoyment of the Sites or affiliated or linked websites;
Intentionally or unintentionally violate any applicable local, state, national or international law, rule, or regulation;
"Stalk", "Cyberstalk" or otherwise harass another user, employee, or representative of Empact Bars, or anyone else;
Register, subscribe, or unsubscribe any party for any Empact Bars product or service if you are not expressly authorized by such party to do so;
obtain or attempt to obtain any materials or information through any means not intentionally made available through the Sites or the Services or access, copy, or otherwise collect information about other users without their consent;
attempt to obtain unauthorized access to the Sites or parts of the Sites that are restricted from general access; or
solicit, collect, or post personal data or attempt to solicit, collect, or post personal data about other users of the Sites, including user names or passwords, or access or attempt to access another user's account without such user's consent.
Empact Bars will not be responsible or liable to any third party for the content or accuracy of any information or materials posted by you or any other user of the Sites. We have the right to remove any material or posting you make on the Sites in our sole discretion.
PRIVACY POLICY*
Empact Bars's privacy policy with respect to the collection and use of your personally identifiable information is set forth at: https://www.empactbars.com/privacy-policy, and is incorporated by reference into these Terms. BY ACCESSING THE SITES AND/OR SERVICES, YOU AGREE THAT YOU ARE ACCEPTING OUR PRIVACY POLICY.
CONTENT UPLOADED TO OR POSTED ON SITES*
If you upload any photographs, comments, information (including, but not limited to, measurements, weight, or aerobic and strength test results), video clips, or other media to the Sites (the "Uploaded Content"), Empact Bars has the exclusive right to use any and all such elements of the Uploaded Content in connection with or as part of its business without your permission, including in connection with any advertising in any and all media, including, without limitation, product packaging, printed publications, presentations, promotional materials, events and associated marketing materials, television and cinema commercials, videos, websites or any online materials, in perpetuity throughout the world as Empact Bars in its sole discretion sees fit without further consent or payment. Empact Bars has all right, title, and interest in any and all such Uploaded Content, or the results and proceeds from such use of the Uploaded Content. Empact Bars has the right to transfer the aforementioned rights to use the Uploaded Content to any third party, including, but not limited to, any of its affiliates. Empact Bars may alter, adapt, or edit the Uploaded Content and any further material created using the Uploaded Content, and market and exploit it entirely at Empact Bars's sole discretion. Empact Bars is not obliged to use any of the Uploaded Content or exercise any of the rights granted by these Terms.
You agree to only post Uploaded Content that is owned by you and features you, and no other third parties. When you post Uploaded Content, you agree to treat your login credentials and password confidential and ensure that they are not shared with any third party. You understand that any Uploaded Content may be seen by anyone on the Internet or outside of the Internet.
COPYRIGHT POLICY*
All material and content on the Sites, including, without limitation, all of Empact Bars's logos, design, text, graphics, photos, software, other files, and the selection, arrangement, and modification thereof (the "Content") is Copyright © 2012-2016 Empact Bars LLC. ALL RIGHTS RESERVED. Empact Bars, its licensors, or suppliers own and retain all proprietary rights in all products or services available through the Sites. Except as stated herein, none of the Content may be copied, modified, reproduced, distributed, transmitted, published, downloaded, performed, displayed, posted, sold, altered, or made into other or derivative works in any form or through any means, including, but not limited to, electronic, mechanical, photocopying, recording, printing, or otherwise, without the prior written consent of Empact Bars or the respective copyright owner. For example, you may not, without the express written permission of Empact Bars or the respective copyright owner, (a) copy, publish, or post any Content on any computer network or broadcast or publications media; (b) modify the Content; or (c) remove or alter any copyright or other proprietary notices contained in the Content. You also may not (a) sell, resell, or make commercial use of the Content, the Sites, or any other materials, services or products obtained through the Sites; (b) collect and use of any product listings or descriptions; (c) make derivative uses of the Sites or the Content; or (d) use of any data mining, robots, or similar data gathering and extraction methods. You are not conveyed any right or license by implication, estoppel, or otherwise in or under any patent, trademark, copyright, or other proprietary right of Empact Bars or any third party.
Empact Bars may remove content from the Sites that appears to infringe the copyright or other intellectual property rights of others, including, but not limited to, moral rights. Empact Bars may terminate access by users who appear (in Empact Bars's own discretion), to infringe the copyright or other intellectual property rights of others. The Digital Millennium Copyright Act of 1998 (the "DMCA") provides recourse for copyright owners who believe that material appearing on the Internet infringes their rights under U.S. copyright law. If you believe that Empact Bars or any user of the Sites has infringed your work in a way that constitutes copyright infringement, please contact us and include the following information:
a physical or electronic signature of the owner of the copyright or a person authorized to act on behalf of the owner;
identification of the copyrighted work claimed to have been infringed (or if multiple copyrighted works located on this website are covered by a single notification, a representative list of such works);
identification of the material that is claimed to be infringing or the subject of infringing activity, and information reasonably sufficient to allow us to locate the material on the Sites;
your name, mailing address, telephone number, and email address;
a statement by you that you have a good faith belief that use of the material in the manner complained of is not authorized by the copyright owner, its agent, or the law; and
a statement by you that the information in your notification is accurate, and that you attest under penalty of perjury, that you are the copyright owner or that you are authorized to act on the copyright owner's behalf.
Please direct inquiries regarding intellectual property infringement issues by email to legal@empactbars.com, or by mail to Empact Bars, 201 Milwaukee Street, Suite 200, Denver, CO 80206.
MODIFICATIONS TO PRODUCTS, SERVICES, AND PRICES
Prices for our products and Services are subject to change without notice. We reserve the right at any time to modify or discontinue any product or Service (or any part or content thereof) without notice at any time. We will not be liable to you or to any third-party for any modification, price change, suspension, or discontinuance of the Service.
PRODUCTS AND SERVICES
Certain products or Services may be available exclusively online through Sites. These products or Services may have limited quantities and are subject to return or exchange only according to our Return Policy. We have taken reasonable precautions to make sure that all products and Services available on the Sites are correct and fairly described. However, when ordering products or Services through the Sites, you acknowledge and understand the following:
We have attempted display as accurately as possible the colors and images of our products that appear on the Sites. We cannot guarantee that your computer monitor's display of any color will be accurate.
The packaging on your order may vary from that shown on the Sites;
Any weights, dimensions and capacities show on the Sites are approximate only;
We reserve the right, but are not obligated, to limit the sales of our products or Services to any person, geographic region, or jurisdiction. We may exercise this right on a case-by-case basis.
We reserve the right to limit the quantities of any products or Services that we offer. All items are subject to availability and we will inform you as soon as reasonably possible if the product(s) or Service(s) you have ordered are not available and whether we may offer you an alternative product(s) or Service(s).
All descriptions of products, Services or pricing of products or Services are subject to change at anytime without notice, at the sole discretion of Empact Bars.
Empact Bars reserves the right to refuse service to anyone for any reason at any time.
Empact Bars reserves the right to not accept any orders, including, without limitation, orders where there is a material error in the description of the product or Service, or if the price advertised is incorrect, or if the order is placed from a country outside of the United States.
We reserve the right to discontinue any product or Service at any time.
Any offer for any product or Service made on this site is void where prohibited.
We do not warrant that the quality of any products, Services, information, or other material purchased or obtained by you will meet your expectations, or that any errors in any Service available at the Sites will be corrected.
All prices are displayed in United States dollars unless expressly indicated otherwise.
ORDER AND PAYMENT INFORMATION
Empact Bars reserves the right to refuse any order you place with us. We may, in our sole discretion, limit or cancel quantities ordered or purchased. These restrictions may include orders placed by or under the same customer account, the same credit card, and/or orders that use the same billing and/or shipping address. In the event that we make a change to or cancel an order, we may attempt to notify you by contacting the e-mail and/or billing address/phone number provided at the time the order was made. We reserve the right to limit or prohibit orders that, in our sole judgment, appear to be placed by dealers, resellers, or distributors.
If you use the Sites to place an order, payment must be received by Empact Bars prior to our acceptance or fulfillment of the order, unless otherwise agreed by Empact Bars. All Empact Bars products and Services are subject to sales tax (where applicable), which will be applied to your order total. Empact Bars may need to verify information you provide before we accept an order, and may cancel or limit an order any time after it has been placed. If payment has already been made and your order is cancelled or limited, we will refund the payment in accordance with our Return Policy. Empact Bars expressly conditions its acceptance of your order on your agreement to these Terms.
You agree to provide true, current, complete and accurate purchase and account information for all purchases made through the Sites. You agree that the email account you provide to us is registered to you. You agree to promptly update your account and other information, including your email address and credit card numbers and expiration dates, so that we can complete your transactions and contact you as needed. Empact Bars may restrict or prohibit your access to and use of the Sites or other products and Services if Empact Bars believes you have provided untrue, inaccurate, incomplete, or otherwise false information to Empact Bars, or for any other reason that Empact Bars, in its sole discretion, deems appropriate.
SHIPPING
Empact Bars will use commercially reasonable efforts to ship products within a reasonable time after receiving your order. Although we may provide delivery or shipment timeframes or dates, you understand those are Empact Bars's good-faith estimates and may be subject to change. You further understand that product availability may be limited and particular products may not be available for immediate delivery, in which case the products will be delivered when they become available.
AUTOMATIC PAYMENT/RENEWAL
If you choose to receive a product or Service from the Sites or otherwise on an auto-pay, auto-renewal, or monthly (or other period) basis ("Autopay"), the product or Service will continue via Autopay until cancelled by you or by Empact Bars. If you have provided a valid credit card number or an alternate payment method, payment for your Autopay product, including shipping and handling and applicable taxes, will automatically be processed either all in the first Autopay period or in each Autopay period on or around the same day of the month as your initial Autopay purchase. The amount for each actual Autopay payment may vary. Autopay payments will reflect pricing of the Autopay product at the time of your order of the applicable product or Service, excluding promotional or discount pricing. Empact Bars may cancel your Autopay subscription or the Autopay program at any time for any reason or for no reason. If you want to modify or cancel your Autopay subscription, please call us at 1-855-933-3348 or email us at info@empactbars.com. Modifications or cancellation of your Autopay must be received at least 5 days prior to the next scheduled payment in order to take effect for that Autopay period. Cancellations received less than 5 days prior to the next scheduled payment will take effect in the following Autopay period.
You must provide current, complete, and accurate information for your billing account. You are responsible for ensuring this information is correct and must promptly update all information to keep your billing account current, complete, and accurate (such as a change in billing address, credit card number, or credit card expiration date). You must promptly notify us if your credit card is cancelled (for example, for loss or theft).
THIRD PARTY LINKS AND TOOLS*
Certain content, products, and Services available via the Sites may include materials from third parties. Third-party links on the Sites may direct you to third-party websites that are or are not affiliated with us. The inclusion of any link does not imply affiliation, endorsement, or adoption by Empact Bars of the site or any information contained therein. We make no claim or representation regarding, and are not responsible for examining or evaluating, the content or accuracy of the content and we do not warrant and will not have any liability or responsibility for any third-party materials or websites, or for any other materials, products, or services of third parties. We are not liable for any harm or damages related to the purchase or use of goods, services, resources, content, or any other transactions made in connection with any third-party websites. When leaving the Sites, you should be aware that the Terms no longer govern, and therefore you should review the applicable terms and policies, including privacy and data-gathering practices, of that site. Please review carefully the third party's policies and practices and make sure you understand them before you engage in any transaction. Complaints, claims, concerns, or questions regarding third-party products should be directed to the third-party.
Similarly, we may provide you with access to third-party tools over which we neither monitor nor have any control nor input. You acknowledge and agree that we provide access to such tools "as is" and "as available" without any warranties, representations, or conditions of any kind and without any endorsement. We have no liability whatsoever arising from or relating to your use of optional third-party tools. Any use by you of optional tools offered through the Sites is entirely at your own risk and discretion and you should ensure that you are familiar with and approve of the terms on which tools are provided by the relevant third-party provider(s). We may also, in the future, offer new products, Services and/or features through the Sites (including, the release of new tools and resources). Such new features and/or services will also be subject to these Terms.
YOUR COMMENTS, FEEDBACK, AND OTHER SUBMISSIONS*
If, at our request, you send certain specific submissions (for example contest entries) or without a request from us you send creative ideas, suggestions, proposals, plans, or other materials, whether online, by email, by postal mail, or otherwise (collectively, "Comments"), you agree that we may, at any time, without restriction, edit, copy, publish, distribute, translate and otherwise use in any medium any Comments that you forward to us. We are and shall be under no obligation (1) to maintain any Comments in confidence; (2) to pay compensation for any Comments; or (3) to respond to any Comments. We may, but have no obligation to, monitor, edit or remove any Comments or other content that we determine in our sole discretion is unlawful, offensive, threatening, libelous, defamatory, pornographic, obscene or otherwise objectionable or violates any party's intellectual property or these Terms. You agree that your Comments will not violate any right of any third-party, including copyright, trademark, privacy, personality, or other personal or proprietary right. You further agree that your Comments will not contain libelous or otherwise unlawful, abusive or obscene material, or contain any computer virus or other malware that could in any way affect the operation of the Sites or any related website. You may not use a false e-mail address, pretend to be someone other than yourself, or otherwise mislead us or third parties as to the origin of any comments. You are solely responsible for any Comments you make and their accuracy. We take no responsibility and assume no liability for any Comments posted by you or any third party. You understand that any Comments may be seen by anyone on the Internet or outside of the Internet.
DISCLAIMER OF WARRANTIES; LIMITATION OF LIABILITY*
The Sites and all products and Services delivered to you through the Sites are (except as expressly stated by us) provided 'as is' and 'as available' for your use, without any representation, warranties or conditions of any kind, either express or implied. We do not guarantee, represent, or warrant that your use of the Sites, including, without limitation, any Service, will be uninterrupted, timely, secure, or error-free. We do not warrant that the results that may be obtained from the use of the Sites will be accurate or reliable. You agree that from time to time we may remove the Sites for indefinite periods of time or cancel any Service at any time, without notice to you. You expressly agree that your use of, or inability to use, the Sites is at your sole risk. You acknowledge and agree that Empact Bars does not control in any respect any advertisements, products, product descriptions, or content offered by third parties on or through the Sites, including, but not limited to, information, products, or services provided by license to Empact Bars from third parties. Nor does Empact Bars make any warranty as to the results that may be obtained from the use of the Sites, any products or Services offered or sold through the Sites, or its content. Empact Bars disclaims any warranty or representation that confidentiality of information transmitted through the Sites will be maintained. To the extent allowed by law, Empact Bars disclaims all warranties and conditions not explicitly stated herein.
In no event, including, without limitation, negligence, shall Empact Bars, our directors, officers, employees, members, agents, affiliates, agents, representatives, contractors, interns, suppliers, service providers, or licensors be liable for any injury, loss, claim, or any direct, indirect, incidental, punitive, compensatory, exemplary, special, or consequential damages of any kind, including, without limitation lost profits, lost revenue, lost savings, loss of data, replacement costs, or any similar damages, whether based in contract, tort (including negligence), strict liability or otherwise, arising from (i) the Sites, (ii) the use or inability to use the Sites, (iii) the use of or reliance on any content or information displayed in or on the Sites, (iv) the purchase or use of any products or Services through the Sites or otherwise, (v) unauthorized access to or alteration or loss of your transmissions or data or other information that is sent or received; (vi) errors, system down time, network or system outages, or file corruption or service interruptions, or (vii) otherwise under the Terms, whether or not reasonably foreseeable, even if Empact Bars or its representatives are advised of the possibility of such damages, claims, or losses and notwithstanding any failure of essential purpose of any limited remedy. Notwithstanding anything to the contrary in these Terms, Empact Bar's liability to you for any cause of action or claim whatsoever, and regardless of the form or type of action, will at all times be limited to the amount paid, if any, by you to Empact Bars for any products or Services supplied by us through your use of the Sites or otherwise.
Empact Bars does not warrant, guarantee, or make any representations that the Sites are free of any viruses or other destructive materials, or that access to the Sites will be uninterrupted, timely, secure, or error-free, or that defects (if any) will be corrected.
If any provision or part of these Terms is found to be invalid, unlawful, void, or unenforceable for any reason, it will be deemed severable and will not affect the validity and enforceability of the remaining provisions of these Terms.
The terms of this section apply to the extent permitted by law.
INTERNATIONAL USERS
The Sites are owned, controlled, operated, and administered by Empact Bars within the United States of America. Empact Bars makes no representation that materials on the Sites are appropriate or available for use at other locations outside of the United States, and access to them from territories where the content, products, or Services available through the Sites are illegal is prohibited. You may not use the Sites to export any of the Content, products, or Services in a way that violates U.S. export laws and regulations or other U.S. laws and regulations. If you choose to access the Sites from locations outside of the United States, you agree to do so at your own risk, and are responsible for compliance with local laws, if and to the extent applicable. Empact Bars reserves the right, at any time in our sole discretion, to limit the availability and accessibility of the Sites to any person, geographic area, or jurisdiction (in our sole discretion), and to limit the quantities of any products or Services that we provide.
INDEMNIFICATION*
You agree to indemnify, defend, and hold harmless Empact Bars and our parents, subsidiaries, affiliates, partners, officers, members, managers, directors, agents, employees, contractors, licensors, service providers, subcontractors, suppliers, interns and employees, from any claim or demand, including reasonable attorneys' fees, made by any third party related to, or arising out of, your use of the Sites, your violation of these Terms or the documents or other policies they incorporate by reference, or your violation of any law or the rights of a third party.
TERMINATION
These Terms are effective unless and until terminated by Empact Bars. Notwithstanding any of these Terms, Empact Bars, without notice and in its sole discretion for any reason or no reason, may terminate the Terms or your ability to use the Sites and may also block or prevent future access to and use of the Sites.
THIRD PARTY RIGHTS
Only Empact Bars and you are entitled to enforce these Terms. No third party is entitled to enforce any of these Terms.
CONTESTS, CHALLENGES, AND GAMES
If Empact Bars conducts a contest, challenge, or game on the Sites, the rules governing any of the foregoing will be accessible either on the page where the contest, challenge, or game is located, through a hypertext link displayed on such page, or in an email notification sent out to you about the contest, challenge, or game. By entering or participating in any of them, you agree to be subject to those rules, regulations and procedures. Please remember to read the rules carefully before participating.
CHANGES TO THE TERMS, THE SITES, PRODUCTS OR SERVICES
Empact Bars may update or amend the Terms from time to time without notice to you. Your continued use of the Sites and/or Services or other products of Empact Bars after any such changes constitutes your acceptance of the new Terms. Any updates or amendments will be posted on the Sites. The Terms displayed on the Sites at the time the order is accepted will apply to the order. It is your responsibility to check the Sites periodically for changes of the Terms.
Empact Bars may also update, modify, change, suspend, make improvements to, terminate, cancel, or disrupt any aspect of the Sites, the Services, or any products available through or outside of the Sites, temporarily or permanently, including, without limitation, the availability of any part of the Sites or access to any part of the Sites, at any time without notice to you.
You can review the most current version of the Terms of Service at any time at this page. We reserve the right, at our sole discretion, to update, change or replace any part of these Terms of Service by posting updates and changes to our website. It is your responsibility to check our website periodically for changes. Your continued use of or access to our website or the Service following the posting of any changes to these Terms of Service constitutes acceptance of those changes.
ERRORS, INACCURACIES AND OMISSIONS
Occasionally there may be information on the Sites that contains typographical errors, inaccuracies, or omissions that may relate to product/Service descriptions, pricing, promotions, offers, product shipping charges, transit times and availability. We reserve the right to correct any errors, inaccuracies or omissions, and to change or update information or cancel orders if any information on the Sites is inaccurate at any time without prior notice (including after you have submitted your order). We undertake no obligation to update, amend, or clarify information in the Sites, including without limitation, pricing information, except as required by law. No specified update or refresh date applied on the Sites, should be taken to indicate that all information ion the Sites has been modified or updated.
SEVERABILITY*
If any provision of these Terms is held invalid, illegal, or unenforceable, the validity, legality, and enforceability of the remaining provisions of this agreement are not affected or impaired in any way.
ENTIRE AGREEMENT; ASSIGNMENT*
These Terms constitute the entire agreement among Empact Bars and you with respect to your use of the Sites, your purchase of products or Services through the Sites, and any use of Empact Bars's products and Services by you. These Terms supersede any other terms and conditions previously published by Empact Bars and any other representations or statements made by Empact Bars to you, whether oral, written, or otherwise.
Empact Bars may assign, transfer, or sub-contract any of our rights or obligations under these Terms to any third party at our discretion. You may not assign or transfer any rights or obligations of these Terms, by operation of law or otherwise, without Empact Bars's written consent.
WAIVER*
No delay by us in exercising any right or remedy under these Terms operates as a waiver of that right or remedy or affects our ability to subsequently exercise that right or remedy. Any waiver must be agreed to by Empact Bars in writing.
GOVERNING LAW*
These Terms, any transactions arising out of your use of the Sites, and any separate agreements whereby we provide you products or Services, are be governed by and construed in accordance with the laws of Texas, without regard to its conflict of law provisions. You and Empact Bars irrevocably agree to submit to the personal and exclusive jurisdiction of the federal and state courts located within the Travis county, in the State of Texas, and waive any jurisdictional, venue, or inconvenient forum objections to such courts.
TIME TO BRING A CLAIM*
Any cause of action you may have with respect to the Sites or Empact Bars's products or Services must be commenced within one (1) year after the claim or cause of action arises, notwithstanding any statutes of limitation to the contrary.
INTERPRETATION*
The section titles used in the Terms are for convenience only and have no legal or contractual effect. Nothing in these Terms will be construed as creating a joint venture, partnership, employment, or agency relationship between you and Empact Bars, and you do not have any authority to create any obligation or make any representation on Empact Bars's behalf.
SUCCESSORS AND ASSIGNS*
The Terms are binding on, inure to the benefit of, and are enforceable against you and Empact Bars and their respective permitted successors and assigns.
CONTACT INFORMATION
Questions about the Terms of Service should be sent to Empact Bars at info@empactbars.com.
*The terms of this section survive any termination of the Terms.
Last updated and effective: May 20, 2016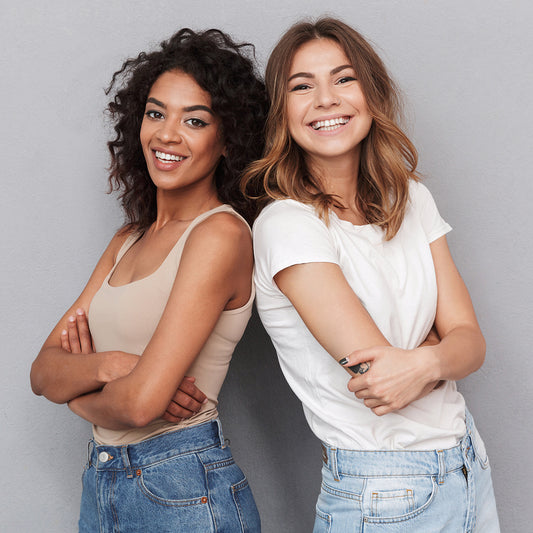 Empowering The Ladies
At Empact, we're all about fueling ambitious go-getters who are set on making a mark. From the boardroom to the classroom, and black tie dresses to yoga pants, we're shattering glass ceilings and making it our mission to empower the inner GOAL Digger inside every woman. It's our goal to inspire healthy choices and make an impact on the lives of women everywhere, helping you find the best version of yourself along the way.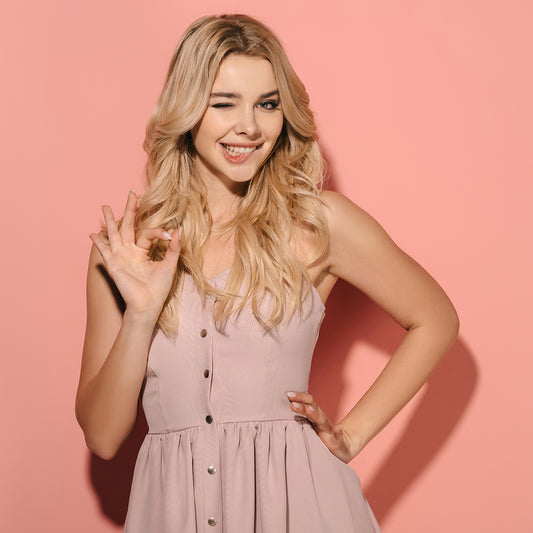 Breaking Through The Noise
The bar aisle is a crowded and noisy place. Yet among it all, there's nothing that speaks to women. Chalky, high in sugar, chemical-laden, and mainly geared towards men, it's no wonder most bars end up half-eaten and folded over in our purse or gym bag. At Empact, we've made it our goal to put an end to this nonsense.
Don't let the Polka Dots fool you. We mean business.
Ingredients
With an ingredients list you can actually pronounce, Empact bars take the guesswork out of healthy, delicious snacking. We pack each snack and shakes full of nutrient-dense, protein-rich, mouthwatering deliciousness, and make no compromise on the quality of our ingredients. We're talking high quality ingredients that won't leave you feeling bloated. Plus, our snacks taste amazing!
Why We Do What We Do...
Ladies, This One's For You
Practice Your Core Values

At Empact, we believe empowering women makes the world a better place, and this belief permeates everything we do. From our ingredients and core values, to the way we structure our business, it's our goal to be intentional about appreciating, recognizing, and taking into account what women want and need. 

Stand Out From The Rest

For us, this meant saying sayonara to the status quo surrounding the energy bar aisle, and delivering a healthy, delicious protein bar that's unapologetically made just for women. A snack and go-to energy source that helps fuel your inner-goal digger, helping you get closer to achieving the impact you're set on making.

Build A Community

At the end of the day, it's our hope that Empact represents a movement and community that helps you and every women be the best versions of themselves.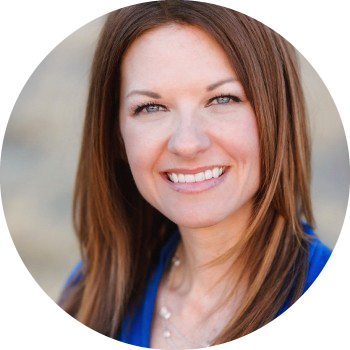 Melonie DeRose
Founder & Chief Goal Digger
A Texas-born lady boss who's not afraid to dance her heart out (Britney Spears-style), Melonie is our resident Chief Goal Digger. 'Hustle' and 'Be Kind' are her personal mottos, and she's convinced amazing things happen when you combine the two. A once-upon-a-time corporate and securities attorney at an international law firm, she puts the many lessons she learned about shattering glass ceilings and excelling in traditionally male-driven arenas to use on the daily. Whatever you're planning, she's in (bonus points for anything involving Vegas, dance parties, lattes, or heels). She can now be found living out her dream of building a company that empowers the girl boss in women everywhere, slinging insanely tasty, polka-dot-wrapped protein bars, and loving life with her husband and three beautiful girls.
IMPORTANT FACT: Melonie's fear of spiders once caused her to eject out of a moving vehicle in the middle of a Parisian roundabout. Apparently, not everything is bigger in Texas.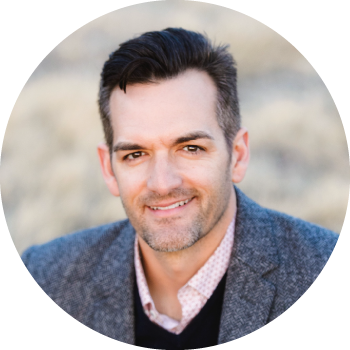 Zeke DeRose
Founder & Chief Gentleman
An L.A. boy who once "rocked" frosted tips, Zeke's now rocking the title of Chief Gentleman here at Empact. As Melonie's hubbie and father to their two daughters, helping his girls feel confident, empowered and loved has been his business before it was his business. Zeke's a jack of many trades: He's swung a hammer as a construction worker, drove race cars (mainly to impress Melonie), had a stint as a high school teacher and a litigator, and eventually got in touch with his feminine side after teaming up with Melonie to run a health and fitness company for women (and now, a protein bar company for women). The dude loves NASCAR, can play a mean jazz sax, and is addicted to lattes. If you ask him about his most important job, he'll be quick to tell you it's raising his two girls to be strong, independent, kind humans who always have someone who believes in them.
IMPORTANT FACT: Best part of his job…telling his kids that their mom is his boss.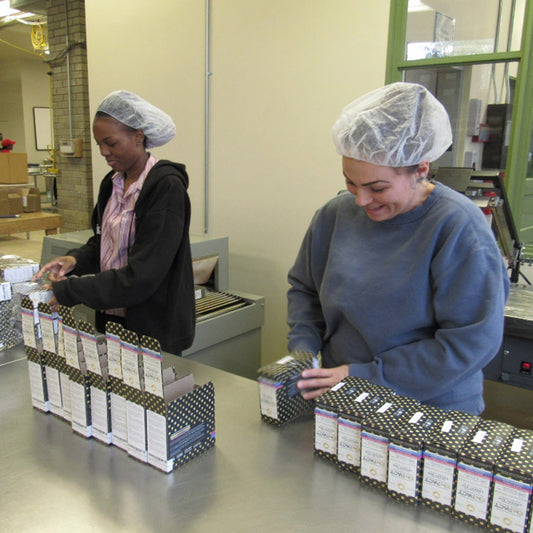 Nonprofits
As we expand and grow, not only will the organizations we work with expand, but we will be able to empower + impact more and more women.
Right now, we work with two amazing organizations that help women on a daily basis. One is the Women's Bean Project, where we contribute to helping women find employment. They have a 6-month program with a 100% job-placement rate, where women learn job and life skills.
The second amazing organization helps girls that fall through the cracks of the foster-care system. Among other things, it's a home for girls 10-17 who are in need of therapeutic residential care and specialized professional services. Often times these girls turn 18 without anything on their resume and lack essential communication and job skills. We're working to help change that.
Learn More About These Nonprofit Organizations