Nonprofits That Work With Empact
Nonprofits
We Empower Women Now.
We Are Hands On.
We Are EM+PACT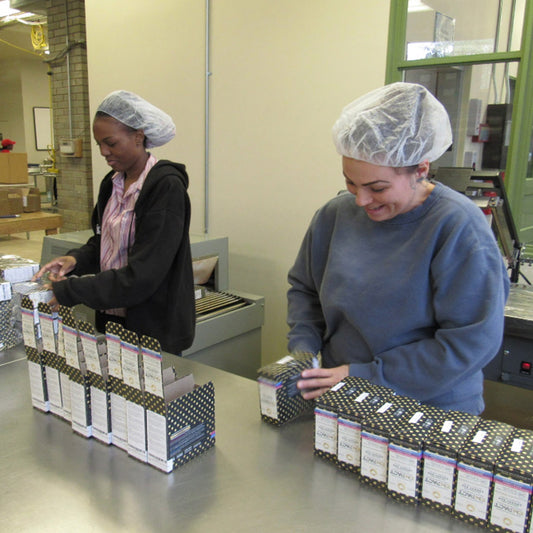 The first amazing non-profit helps chronically underemployed women transition into full-time employment.
Excel In The Workplace They have a 6-month program that has a 100% job-placement rate, where women learn job and life skills.
Interact With Amazing Women We are blessed to have some of these women help with our Empact Bar packaging! Interacting with them is an absolute pleasure.
Make An Empact On Families "They learn to stand tall, find their purpose, and end the cycle of poverty. Because when you change a mother's life, you change her family's life."
Get Involved
Empowering Change
The Stats Are Heartbreaking
Here Is The Second Organization We Work With...
Jonathan's Place Helps Girls That Fall Through The Cracks Of The Foster-care System.
Among other things, it's a home for girls 10-17 who are in need of therapeutic residential care and specialized professional services.
Often times these girls turn 18 without anything on their resume and lack essential communication and job skills. We're working to help change that.
These girls have experienced neglect, abandonment, physical, emotional and sexual abuse. We're helping them with confidence building and empowerment.
Empact will also help provide sales and communication training so the girls are able acquire the vital skills to communicate effectively with others. Our goal is that they will develop skills that will help them both personally and professionally.
What Is A Goal Digger?
We are trying to help women and girls reach their goals.
A goal digger is someone who is striving to achieve her goals. Someone that is conquering life by setting a goal and getting after it. You don't have to be rich to be a goal digger. You don't have to be young. You don't have to be successful. You just have to have desire.
What do you want, why do you want it, what's holding you back, and what are you doing today to achieve your goals?
A goal digger doesn't give up, she keeps digging.
And everyone around her is empowered because of it. Little girls have goals. Big girls have goals. We all have goals and EMPACT is here to tell you that no matter who you are, no matter your situation, we want to help you become the best version of yourself and get one step closer to reaching your goals.
We're all in this together and that means we have a obligation to empower other women and girls reach their goals. As we like to say, when you empower a woman, you empower a community.