Money Back Guarantee & Return Policy
100% No-Risk Promise. Order right now with confidence. Try out your Empact 'Product' for 60 days and if it doesn't work for you, you'll get your money back! There is absolutely no-risk in giving it a try. Even if you just don't like the flavor, you can get your money back! Empact strives to keep you totally fulfilled and gratified, which is why we offer a 60-day, money back guarantee. If at any point you decide it's not the most nutritious, delicious superfood mix on the planet, remember your Empact 'Product' is protected by the highest standard 100% money-back guarantee. Just send us the product and we'll refund you to the last penny (less return shipping), no questions asked.
Within 60 days from purchase, if you are unhappy and would like a refund for your Empact 'Product', here's exactly what to do: Contact the Empact team by calling 877-836-7228 Monday through Friday between the hours of 8:00am and 4:00pm Pacific Standard Time. We will gladly provide you with our return address, so as not to waste any materials. This is an easy and effortless process. Return the empty box or bag the Empact invoice that you received, and the confirmation number you have been assigned. It is your obligation to pay the return postage, and we do recommend you opt for tracking and confirmation numbers for verification and efficiency purposes. Note: We must receive the box or bag within 60 days from the date of original purchase for the refund to be valid.
We will refund your entire order, excluding return shipping costs, as long as all boxes and bags purchased are returned. These guidelines were created to keep you satisfied, while at the same time ensuring we can continue to provide a quality product to other happy customers for years to come. After complying with the steps above, please allow adequate time for shipping, quality control, and communication with credit card companies and banks as you patiently await your refund.
All matters regarding returns of Empact Products must be conducted with place of purchase (Empactbars.com, Empact authorized reseller, ect). Returning an Empact 'Product' without complying with our policy, or returning a Product absent the protections afforded by Empact as the retailer, or the protections conferred contractually to participants in the Empact Authorized Reseller program will unfortunately deem your transaction non-refundable. Empact defines 'Product' for the purpose of this policy as the sum of the following parts:
Empact physical products (sealed bottles/containers containing unaltered Empact product);

Empact digital or marketing materials prescribed for distribution with the physical Empact products; and

Warranty protections held by Empact as the retailer or conferred by Empact in contractual agreement to authorized resellers.
Products not containing the sum of its parts (products purchased from unauthorized resellers, who by definition, operate with no warranty protections that Empact is contractually bound to honor for example) are defined by Empact policy as 'materially different' from Empact products sold to end users (customers) by Empact or participants in Empact's authorized reseller program, and thus are not authorized for resell. Products resold by persons, parties or entities, not granted warranty protections in a mutual agreement with Empact under Empact's Authorized Reseller Program are not authorized for reimbursement in the event of return under this policy. Warranty protections as granted by Empact to authorized resellers cannot be purchased or transferred, and are held exclusively by Empact, except as conferred through mutual agreement between Empact and participants in Empact's Authorized Reseller Program.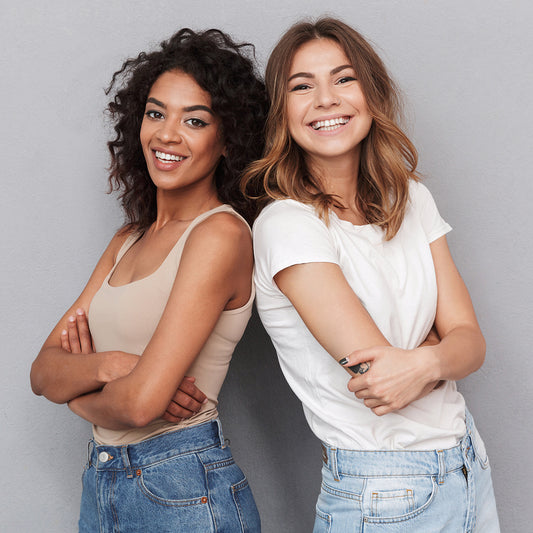 Empowering The Ladies
At Empact, we're all about fueling ambitious go-getters who are set on making a mark. From the boardroom to the classroom, and black tie dresses to yoga pants, we're shattering glass ceilings and making it our mission to empower the inner GOAL Digger inside every woman. It's our goal to inspire healthy choices and make an impact on the lives of women everywhere, helping you find the best version of yourself along the way.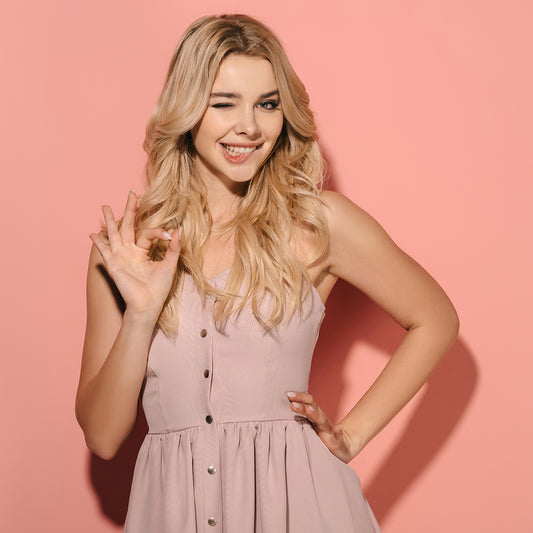 Breaking Through The Noise
The bar aisle is a crowded and noisy place. Yet among it all, there's nothing that speaks to women. Chalky, high in sugar, chemical-laden, and mainly geared towards men, it's no wonder most bars end up half-eaten and folded over in our purse or gym bag. At Empact, we've made it our goal to put an end to this nonsense.
Don't let the Polka Dots fool you. We mean business.
Ingredients
With an ingredients list you can actually pronounce, Empact bars take the guesswork out of healthy, delicious snacking. We pack each snack and shakes full of nutrient-dense, protein-rich, mouthwatering deliciousness, and make no compromise on the quality of our ingredients. We're talking high quality ingredients that won't leave you feeling bloated. Plus, our snacks taste amazing!
Why We Do What We Do...
Ladies, This One's For You
Practice Your Core Values

At Empact, we believe empowering women makes the world a better place, and this belief permeates everything we do. From our ingredients and core values, to the way we structure our business, it's our goal to be intentional about appreciating, recognizing, and taking into account what women want and need. 

Stand Out From The Rest

For us, this meant saying sayonara to the status quo surrounding the energy bar aisle, and delivering a healthy, delicious protein bar that's unapologetically made just for women. A snack and go-to energy source that helps fuel your inner-goal digger, helping you get closer to achieving the impact you're set on making.

Build A Community

At the end of the day, it's our hope that Empact represents a movement and community that helps you and every women be the best versions of themselves.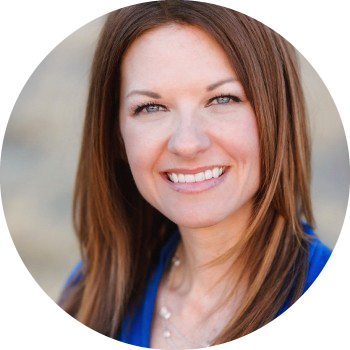 Melonie DeRose
Founder & Chief Goal Digger
A Texas-born lady boss who's not afraid to dance her heart out (Britney Spears-style), Melonie is our resident Chief Goal Digger. 'Hustle' and 'Be Kind' are her personal mottos, and she's convinced amazing things happen when you combine the two. A once-upon-a-time corporate and securities attorney at an international law firm, she puts the many lessons she learned about shattering glass ceilings and excelling in traditionally male-driven arenas to use on the daily. Whatever you're planning, she's in (bonus points for anything involving Vegas, dance parties, lattes, or heels). She can now be found living out her dream of building a company that empowers the girl boss in women everywhere, slinging insanely tasty, polka-dot-wrapped protein bars, and loving life with her husband and three beautiful girls.
IMPORTANT FACT: Melonie's fear of spiders once caused her to eject out of a moving vehicle in the middle of a Parisian roundabout. Apparently, not everything is bigger in Texas.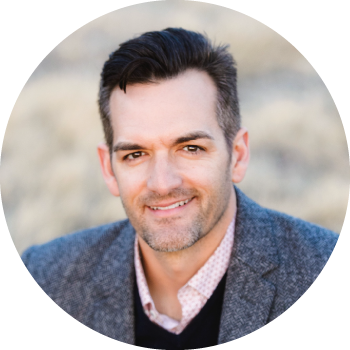 Zeke DeRose
Founder & Chief Gentleman
An L.A. boy who once "rocked" frosted tips, Zeke's now rocking the title of Chief Gentleman here at Empact. As Melonie's hubbie and father to their two daughters, helping his girls feel confident, empowered and loved has been his business before it was his business. Zeke's a jack of many trades: He's swung a hammer as a construction worker, drove race cars (mainly to impress Melonie), had a stint as a high school teacher and a litigator, and eventually got in touch with his feminine side after teaming up with Melonie to run a health and fitness company for women (and now, a protein bar company for women). The dude loves NASCAR, can play a mean jazz sax, and is addicted to lattes. If you ask him about his most important job, he'll be quick to tell you it's raising his two girls to be strong, independent, kind humans who always have someone who believes in them.
IMPORTANT FACT: Best part of his job…telling his kids that their mom is his boss.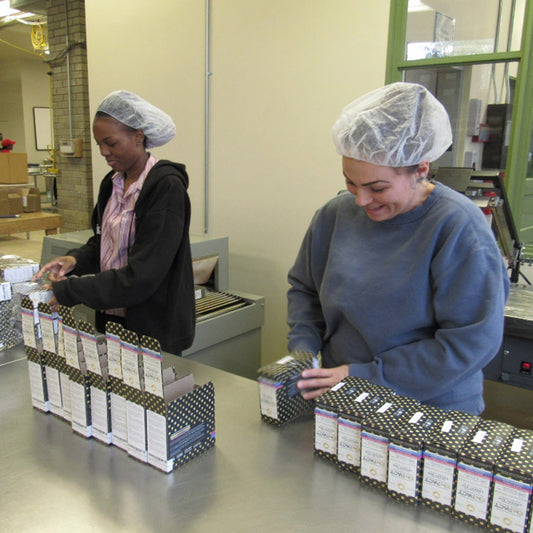 Nonprofits
As we expand and grow, not only will the organizations we work with expand, but we will be able to empower + impact more and more women.
Right now, we work with two amazing organizations that help women on a daily basis. One is the Women's Bean Project, where we contribute to helping women find employment. They have a 6-month program with a 100% job-placement rate, where women learn job and life skills.
The second amazing organization helps girls that fall through the cracks of the foster-care system. Among other things, it's a home for girls 10-17 who are in need of therapeutic residential care and specialized professional services. Often times these girls turn 18 without anything on their resume and lack essential communication and job skills. We're working to help change that.
Learn More About These Nonprofit Organizations